We have been in business for over 10 years!
We started out as a small sourcing company and have now evolved in to a much larger operation. We are designers and manufacturers of a vast array of clothing and promotional goods. We have provided 100s of thousands of items to a great number of events and organisations. We are based in Limerick, Ireland where in our warehouse we hold stock, screen print, heat press, embroider and design many different products.
Most our team has been with us since we started our business so you can be assured you will get the experience you need when starting the process of sourcing your goods. We pride ourselves on creative and unique designs. Our design department has a very fresh and uniquely creative approach to every single project. I think you will see this once you flick through our catalogues.
Our aim is to work in partnership with our customers and grow together. Through customer feedback we consistently enhance our offering and build trust.
Ken is the founder and director of Titan sports and has been at the haem of all things Titan since our inception. Ken is also an event organiser so understands then needs of both the participants and the event directors. He has enjoyed watching the company grow 'year on year' and is sure there are many more good times to come. Ken limps through some marathons and adventure races but is always there to enjoy the buzz.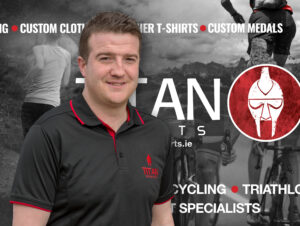 John is our in house accountant and head of operations and has many years of dedicated service to team Titan. John is the key cog in the wheel and has been paramount to the success of Titan. John is always ready to reach out to our customers and both is committed and dedicated. Has never run or cycled in his life but however is a devoted GAA man and always ready to serve his local club.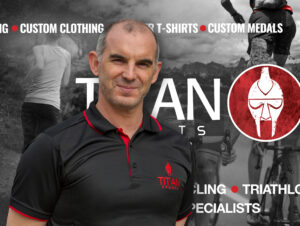 Diarmuid is the talent behind the vast majority of our designs. Diarmuid is the 'hidden gem' behind Titans success having spent all his days designing and creating wonderful products. Diarmuid is always looking to take our products to the next level. Our customers will agree he is both talented and extremely patient when it comes to getting that final product signed off. When not designing he is out carving trails on his beloved mountain bike.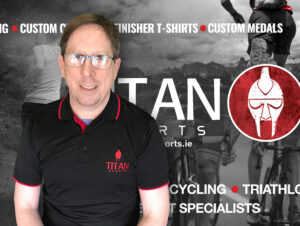 Mike is our guy in the engine room. Mike is a rare breed in the world of screen printing, screen printing is a highly skilled and unique talent, and our man has it in spades. Mike has a keen eye for detail and committed to the highest level of quality before goods can leave the warehouse. While not managing our print team, Mike is a dedicated GAA man and also partial to the odd Guinness.